Milkmandu is a company that produces varieties of milk and dairy items directly from their organic farm located at Bhaktapur. It has resumed their services a week before. They are the first in Nepal to introduce various range  of fresh pasteurized milk products, as well as the practitioners of HACCP (Hazard Analysis and critical control points) within their farm and production house.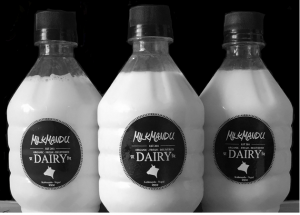 Quality is the major concern when it comes to food we consume. To make sure the quality is not compromised, Milkmandu uses monitoring staff on every level of production chain. They are empowering local farmers into their model of operation that in return help the local communities as well.
All the product from Milkmandu are freely delivered around Kathmandu and Lalitpur by Foodmandu. You can place your order directly on Foodmandu's website . Order received at foodmandu are delivered every day between 4.00 – 6.00 PM in your doorsteps.
Currently, only limited products from Milkmandu are available for delivery including  Milk (Variation on fat level), different flavor of Yogurt, Butter,  Milk Cream, Cheese etc.
All the products from Milkmandu are made using 100% pure cow milk. There is no added fillers, sweeteners, sugar, powders, artificial colors, gelatin's or emulsifiers on all the products available so far.