What it takes to run a restaurant in Kathmandu? – Perseverance, Passion and love for food! With every passing day we see new restaurants being launched in the alleys and streets of major locations in city. But what we also see is a new restaurant launched a few months back, being shut down or being re-launched with a new name. Owning a restaurant and running it to perfection is not as easy as it appears. It takes perseverance, passion and immense love for food, for the restaurant to accelerate in this city of food.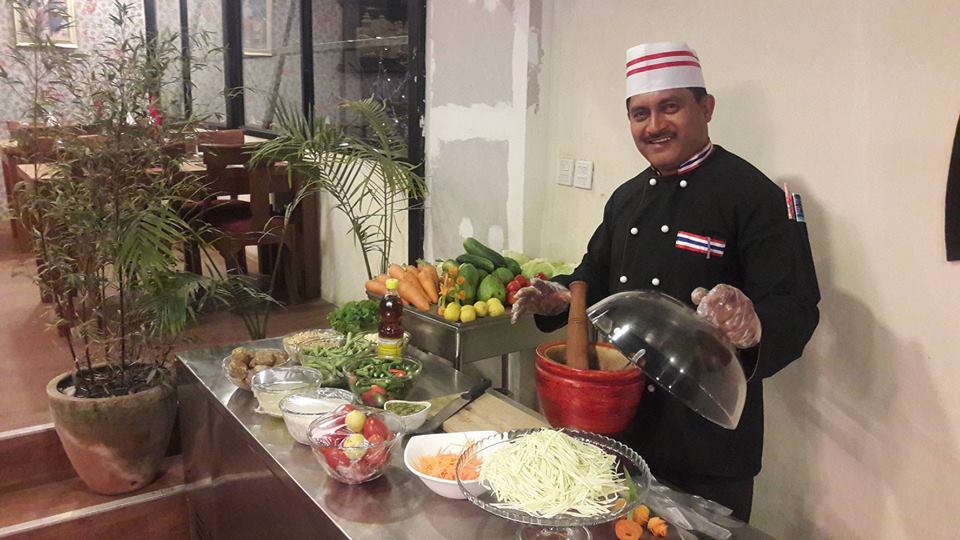 When Mr. Ganesh Dhakal started a restaurant specializing in serving thai food, his struggles and challenges were surreal. Despite being loss leader for number of years, today he successfully runs Baan Thai and Royal Thai in the hearts of the city, serving 100s of customers everyday who rejoice to the delicious Thai cuisine and inordinate hospitality.
Baan Thai Restaurant at Maharajgunj!
Baan Thai's name originated from a Thai word "bahn", referring to home in Thai language. The restaurant brings in a bit of Thailand to Nepal. From the furniture to ingredients used for cooking, every bit of decorations are imported from Bangkok, Thailand. Mr. Dhakal himself is a great lover of Thai food, Thai culture and the entire nation itself, which explains why he chose to specialize in Thai food. However, that is not the only reason he claims.
The thai food is healthy and prepared by strictly maintaining hygiene and standards, moreover emphasizing to avoid direct salt, oil and additional tasting powder. Mr. Dhakal wants people to follow a healthy eating lifestyle in this city full of fast food. He has been advocating for organic farming from past few years. As a matter of fact, he is operating organic farms at Bhaktapur and Lubu, from where the vegetables are brought to the restaurants and used in cooking. And as per some ingredients that you can't find in the Nepali markets, Mr. Dhakal himself, takes the trouble to travel to Bangkok to bring in his special ingredients and herbs. He believes every individual must be cautious about their health. Be aware about what they are eating and how that impacts them. If majority of  population in Nepal started thinking that way, he believes an organic revolution can begin here in the country itself.
Baan Thai boasts quality and flavors. Mr. Dhakal is entitled as masterchef of Nepal and studied cooking in Thailand .Being listed as one of the masterchef itself is a matter of prestige, held by few in Nepal. The huge chunk of his cooking career and student life was originated in Thailand . This is one of the vital reason behind his immense love and passion with Thai cuisine. 3 professional chefs work under his direct guidance, who definitely know their food. They are trained to the point where Mr. Dhakal could ask them to make a dish he tasted in Thailand, and they'll serve it to him with the exact same taste. 11 Years of practice, it is! Though the restaurant started 20 years back, it still doesn't compromise with quality, taste and service. It lures in customers for a Thai food retreat every now and then.
What you should definitely eat when at Baan Thai?
When in Baan thai, you should definitely try their tom yam soup a little sour but not too overpowering. It would the perfect dish to start out the feast with. Other favorites at the restaurant includes Pad Thai, a noodle dish topped with peanuts, and choice of meat, and Mr.Dhakal's recommends to try banana leaf chicken herb fish, as exotic as it sounds, he promises to be one of the finest food in thai cuisine.