Nepal, the country that is known to the world over for diverse and rich in culture. The country's cultural and geographical diversity gives abundant space to a number of cuisines. From the traditional Dal-Bhat tarkari and Samay baji to Momos and Selroti, Nepal has suitable dishes according to climate as well as dishes that have traditional values to it.
"Online Food Festival" is associated with Kathmandu's best restaurants that specializes on Nepali cuisines and we have a list of what these restaurants are ready to serve during this festival.
Bota simply Mo:Mo
Established on 21st May 2015, Bota aims to touch people's hearts through their food. Almost every Nepali's favorite go-to dish would be Momos. Bota has been serving customers with a range of Momos. From Sandheko  Momo to Jumbo Momo, this Momo place has it all at a very reasonable price. Bota is one of the emerging food conglomerates in Nepal with four branches all over the city and aims to open more.
Krunchy Chicken Burger      Chi- Chi Roll (Chicken)
Chi. Drumstick                       Jhol Mo:Mo (Chicken)
Buff. Krunchy Mo:Mo           Bota Open Mo:Mo (Chicken)
Sadheko Mo:Mo ( Chicken )  Buff Bota, (Steam Mo:Mo)
Krunchy Chicken Mo:Mo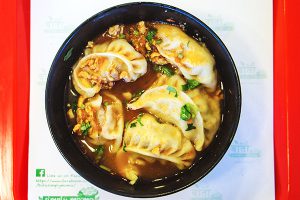 Bajeko Sekuwa
Started as a small shop with a few stools, by one man, Baje Dinanath Bhandari, Bajeko Sekuwa now has multiple branches and is one of the best places to get Sekuwa. The restaurant, today, offers more than hundred varieties of food including different varieties of Sekuwa. Bajeko Sekuwa is highly recommended to get the true taste of Sekuwa in Kathmandu.
        Chicken Mo:Mo                        Jhaneko Sekuwa Set (Mutton)
Jhaneko Sekuwa Set (Chicken)                   Mutton Sekuwa
Chicken Sekuwa Set                                Hyakula Tareko
Timur Chicken                                         Sukuti Sandeko
Chicken Sandeko ( Poleko )                   Fila Sandeko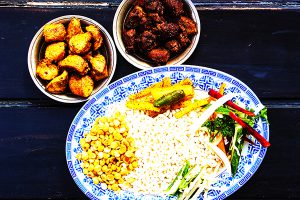 Ghangri Cafe
Ghangri's main attraction is the Sumai open Mo:Mo. Besides the famous open Mo:Mo, people favor Ghangri's cheese balls and Chicken Lollipop. You can have tasty food all of the time and enjoy the company of your favorite friends and family. The restaurant is located at Pulchowk. The Ghangri Café has been serving their delicacies since 2006.
Open Momo (Chicken)                            Chicken Mozzarella Meat Ball
Chicken Lollipop                                        Chicken Cordon Bleu
Sanghai Fish                                            Cheeseball
Vegetable  Finger                                Manchurian  (Chicken)
Shahi Pasanda   (Paneer)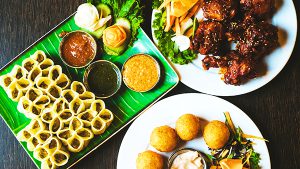 Vootoo Food Voutique
"Vootoo" is derived from Newari word "Bhutu" which means "Chulo" (Traditional wood fire).  Ideally located in Lazimpat, Vootoo is a food boutique specializing in Newari festival food. Vootoo serves traditional cuisine cooked on low heat to give you the authentic Nepalese taste.
Wo (Bara) Mix Bara                           Foksho (Lungs Filled With Flour)
Jhol Mo:Mo Chha Buff  / Chicken         Hakku Choela Buff / Chicken
Vootoo Sukuti (Dry Meat With Spices)    Samae Baji (Khaja Set)
Bandipur Chicken Full                           Newari Meat Plater Medium
Yomari (Chakku )