Thailand is probably one common destination we all have in our bucket list or have ticked off from the bucket list. While the tourism destination has a renowned market around the globe, Thai cuisines too have made their own identity. And it is said, food is an important aspect of every culture. To know a culture, one should start by exploring the food. So here are some amazing Thai cuisine restaurants who serve the best Thai dishes in the town.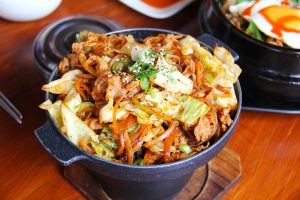 Situated in Bhaktapur, Royal Thai Restaurant & Bar serves varieties of Thai cusine. The menu has both Veg and Non-veg options. Some popular thai dishes served by the restaurant are Kai Yang, Larb Nua, Yam Woon Sen Kai, Pad Pak Rummit, Moo Pad King, etc. If you haven't tried thai dishes even once, your taste bud in missing something really amazing. An unbiased review on Tripadvisor from a Indian National states, "If you like thai food and looking for authentic thai then this is the best place in kathmandu. Ambiance is really good.the device is also good.regarding food taste is really mouth watering. Price wise little bit high but overall it's good.will recommend."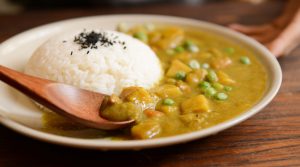 Baan Thai is situated in Maharajgunj and is serving authentic Thai cuisines since 2016. While serving some Thai classics, the restaurant serves a handful of original and unique dishes created by Chef Ganesh Dhakal. With years of experience in preparing Thai food, the chef and energetic team of Baan Thai ensures health as well as taste. They avoid too much oil, added preservatives and msg to ensure customers eat healthy dishes.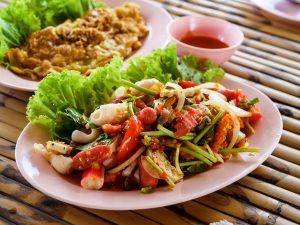 An exclusive restaurant situated in Thamel, Yin Yang is a restaurant specializing in Thai Food. While giving the best of thai dishe, it serves continental dishes as well. Established in 1970, Yin Yang restaurant and Bar is one of the oldest restaurant serving Thai cuisines in the town. Dean J, a Canadian National who visited the restaurant in November of 2019 states "The best flat noodles I've had this side of Bangkok, and my wife's pad Thai was good as well. Reasonably priced." (Source: Tripadvisor)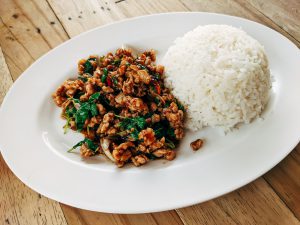 Krua Thai Nepal is situated in Naxal and serves authentic Thai cuisines. Thai dishes are known for their spiciness. Som Tam is a famous example of Thai dish. The secret of amazing Thai dishes is a careful blend of sour, sweet, salty, bitter and spicy flavors. Also, rice is an integral part of Thai meal which is served with Tom Yum Goong. Krua Thai specializes in giving a perfect taste in all these dishes.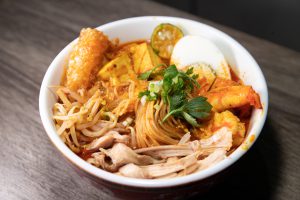 Mango Chilli Thai Café is a Café styled Thai cuisine restaurant which is a franchise of a company in Thailand since 2016. They have their signature dishes prepared in sauces which are imported from their parent company Mango Tree/ Coca Foods Thailand. This ensures that the real taste of Thai food stays the same like that in Thailand. The restaurant is set to give you the Thailand nostalgia and bring back the memories.
Wanna try them out right now? Login to Foodmandu app or website and order your favorite Thai dishes now! #DoTheFoodmandu