Foodmandu is the first and only food delivery service provider. Serving as a facilitator we deliver food to our valued customer to their house and office from among our wide range of popular member restaurants. Our daily operation is as unique as our business concept itself. We operate almost 365 days in a year assuring our service availability to the customer. Our service starts from 11am in the morning to 8:30pm in the evening.
Currently, Foodmandu has been providing employment opportunity to around 50 people. 60% of which is delivery staffs. With the growth in business, the need for this manpower is vital. Delivery staffs serves as the backbone of our company. It is impossible to imagine Foodmandu to this day without the dedication and hard work of this valuable resource for almost 6 years now.
As a service employee, delivery boys must be available in duty 6 days a week. They work in shift between 11am to 10pm. The job of a delivery person is a physical work which requires mental and physical balance to perform the duty. Day or night, rainy or sunny, summer or winter, festival or public holidays, Foodmandu is always in action and so are our delivery boys. They drive through the difficult streets of Kathmandu in maximum pollution, difficult roads and hazardous traffic jam.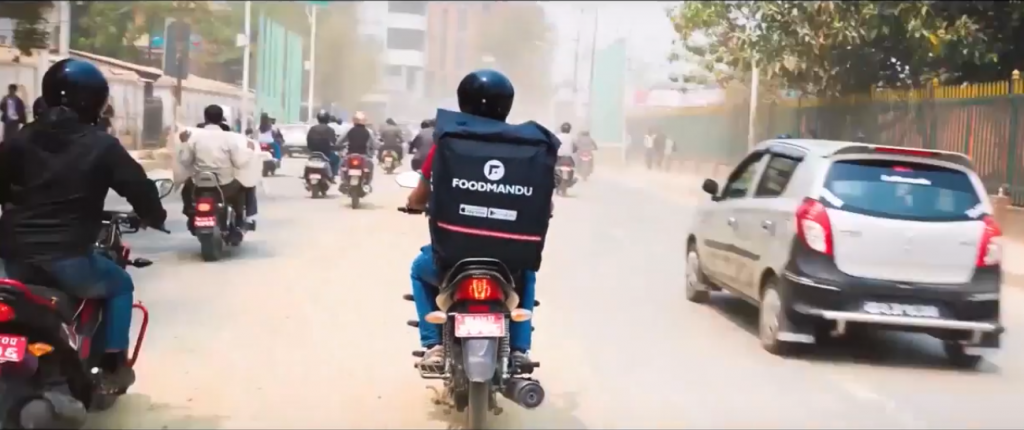 The street with no names and the rough roads makes the job of driver difficult to find a landmark. There are many factors on the road that makes their day upsetting, tiring and irritating like complaining and arguing customers, chasing dogs, traffic jams, bad weather and hence turn into a long day. So, wondering what keeps them up for the duty???!!!
What keeps them running?
The smile on customer's face to find their favorite restaurants food warmly delivered to their place in/before the expected time.

The kind words, thankfulness and gesture of customers for the service provided.

The joy to be able to cross the hurdle of traffic jam and reach restaurant before food is packed.

To be able to reach customer's door without asking for any directions,

To be able to remember customer's location by customer's name and landmark.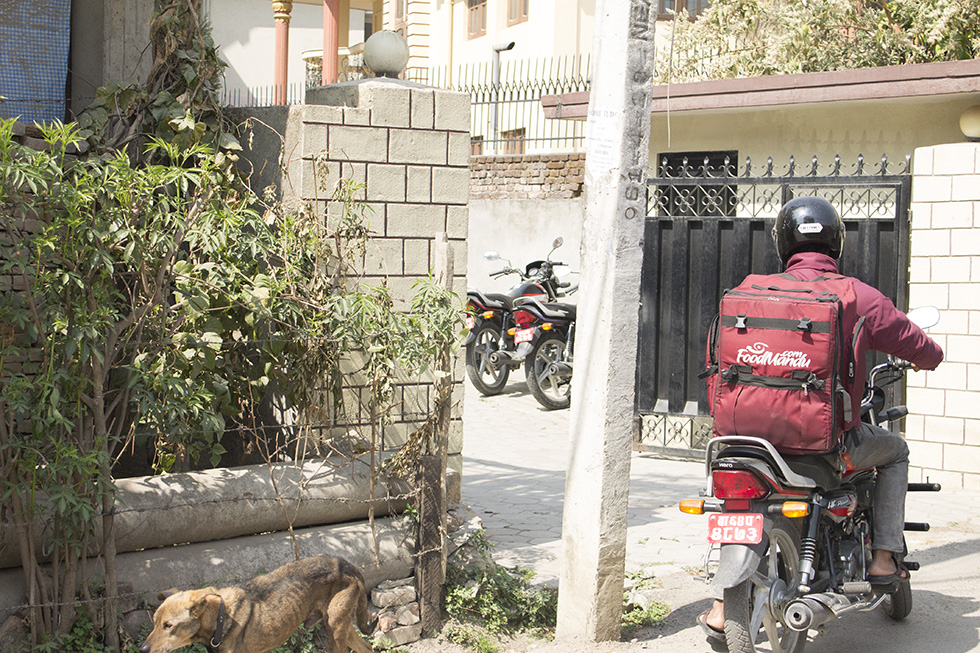 The happiness for them is to find the famous faces of actors, directors, etc. in the door while customer is happy that food has arrived warm on time. Delivery person would be wondering if they can say they are fan and get an autograph or a picture with them maybe.
 "I work in the mornings and I am free in the evening. I was looking for job that can help me occupy my leisure evenings. Foodmandu's part time evening shift suits my requirements." – Laxman
Delivery drivers secretly passing food to customer from school's wall so that they don't have to eat canteen's food.
Customer requesting delivery driver to hurry up to take the elevator so that they don't have to walk 14th floor up the stairs with food bag during the load shedding.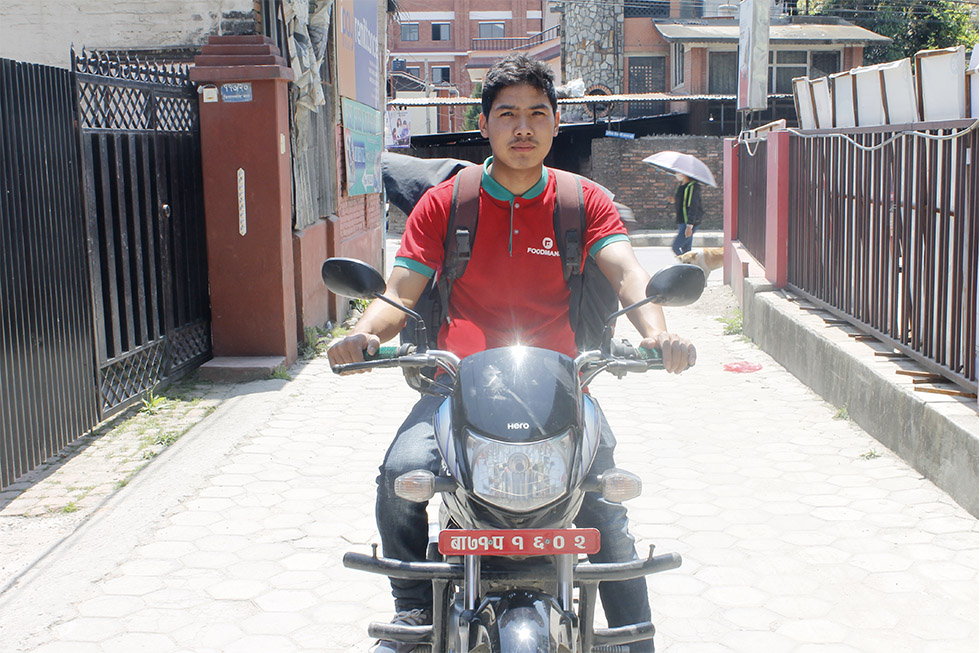 These things make them happy and keep going. Our delivery heroes have the following statement regarding the job: According to our Delivery Driver  Prabin,"As a student of engineering I no longer feel comfortable to be dependent with my parents for pocket money. The part time job provides me time for both study and work."
These heroes with must do attitude take customer service very seriously. To encourage and appreciate their effort, please make sure to use kind words with them. Please think of these faces visiting your doorsteps as the angels delivering you food happiness.
"I was about to complete my studies. I had no job experience. Before starting my career in my preferred field, I wanted to engage in a job where I can develop my skills and gain experience." – Ankit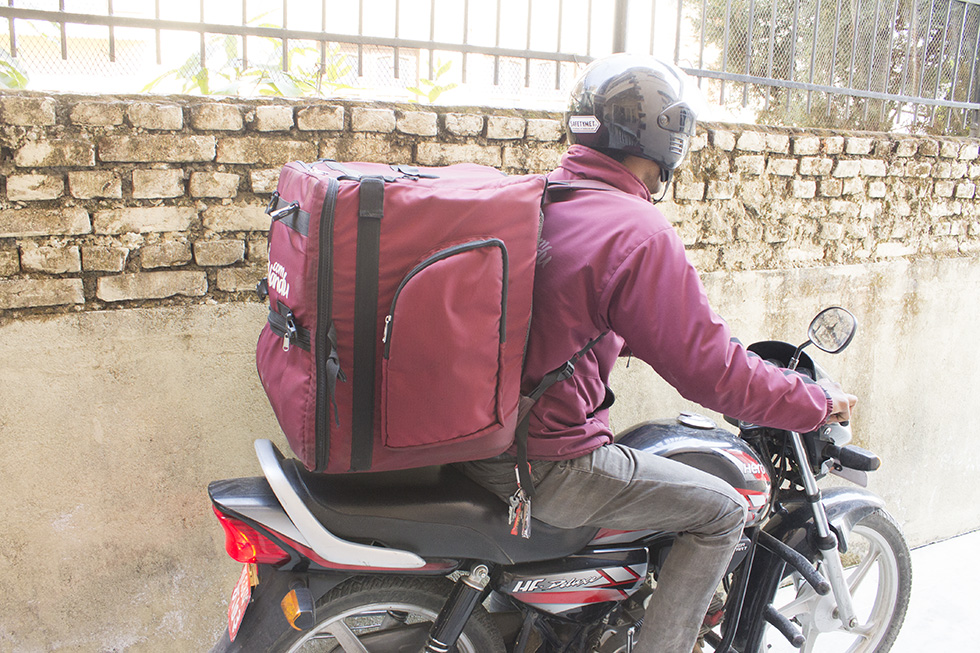 Your small gestures can lighten their day up. We all the time complain about the system, rules, regulations and the things that don't go right. Well, it has to start from each of us. To give happiness, to help, being empathetic and keeping humanity alive. A little effort from everyone can make this world a better place to live for others.
"Like others I don't want to go abroad instead I would like to do something in my own country. Foodmandu's full time job has fulfilled my job requirements." – Bijay 
We would like to welcome the interested group of people to join us.  
Why join us?
To be part of a unique work culture with a variation of hospitality & e-commerce,  

To develop and enhance your interpersonal and organizational skills,

To enjoy your passion driving around the city delivering food happiness.
Any one joining the company realizes the every effort we put in providing quality service and gradual improvements to raise our service standards.
"I have past experience of delivering, I was looking for similar opportunity. I can provide my full time and it is appropriate job for me." – Bikash
This job is suitable for students who want to work part time in order to enhance their skills and earn their pocket money. And also, to those who are seeking job to utilize their free time or who has extra financial needs, and those who can engage full time and report duty in flexible timings. Anyone who is smart & communicative has pleasant personality and positive attitude, who loves to ride and drive to new places can apply for the job.
The whole experience of being Foodmandu's delivery driver will help you understand customer service, make you feel financially and socially responsible, will allow you to ride around the city and help you develop your skills set.
MAKE EAT EASY!!