Caesar Shrestha sat across the table, pre-occupied, requesting for a particular pink orchid over the phone. Apologizing profusely for being on the phone he explained, "It's one of our colleague's work anniversary and I am trying to order an orchid for her. She loves gardening so this will be a perfect gift." Shrestha, Sales Manager at Foodmandu, recently completed his seventh year in the company.
Entering the food zone
"Foodmandu has now become an integral part of my life. A lot has changed, professionally and personally, since I joined this company. I met the love of my life, got married and now enjoying fatherhood – all this happened while working here," he shares. Shrestha previously worked for another company and had tried his hands in PR, Marketing, and Sales department before joining Foodmandu in 2012. "It was an absolutely new concept back then, foodies of Nepal were yet not aware or used to the concept of online ordering of food from their favorite restaurant," he says. This was a new concept and being adventurous regarding helped him a lot.
Building the dream
In the last seven years, Shrestha believes Foodmandu played a vital role in honing his skills. "We had a pretty challenging time, in the beginning, to make restaurants understand this concept of Foodmandu and show them the long term benefit from being a partner with our company, he says. "Today we get a couple of c
alls a day from restaurants interested in a partnership, so yes it has been a very exciting and rewarding journey so far," he adds.

Journey so far
While in Foodmandu, he did all kind of jobs. He worked as Operation Manager, as Customer Service Officer, and has also delivered food when manpower in the delivery department was not enough. "It was not an overnight success, we worked on the principle of 'adding one restaurant = adding one customer'. Starting with less than 50 restaurants, today we have reached 300 plus. I remember we added Alice Restaurant in Gairidhara on Foodmandu even before they opened it for the public," Shrestha shares. Foodmandu has experienced a drastic rise in online food order in the last two years. Being a service oriented company Foodmandu makes sure they fulfill all their commitments. "During the border blockage we made sure all the orders placed on Foodmandu reached our clients and that played a vital role in establishing the brand as a household name with our impeccable service quality," he says.
Future plans
They have huge
plans for the future to take the company ahead in every possible way, "There are a couple of ideas but targets can't be reached just based on them, you need to execute them right. We are lucky to have a young team who are open to new ideas and challenges." After the major success of Foodmandu Online Food Festival in January, they have many more interesting offers happening in the near future and Shrestha and his whole team are excited to unveil them all in due time.
Life as a foodi
e
Talking about how people perceive the work that involves food from almost every restaurant in town, Shrestha says, "I love trying new food. As my friends are of different ethnic groups so are open to trying new food from different places. People have this misconception that I get to eat a lot of food just because I work for Foodmandu but that is not the case." He has fond memories from his childhood of going out with the family for dinner but now he orders through Foodmandu. "Ordering in means no hassle regarding traffic, choosing restaurants, and parking," he adds. He turns out to be one of the top 100 regular clients of Foodmandu. His favorite places to order are Pho 99 (Vietnamese) and Chinatown (Chinese) among others.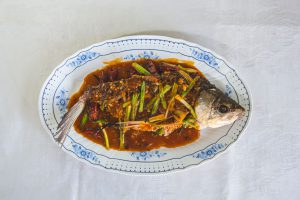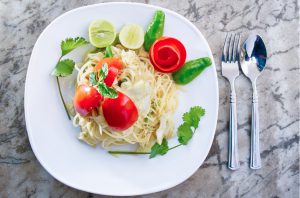 You can always try dishes from these two favorite places of Caesar Shrestha at your home; Foodmandu is there to deliver them hot.
Currently, Foodmandu is running Happy Lunch. It offers dishes from various restaurants at a discounted price from 12 noon till 3 pm every day.