People are tired of day to day buzzing around, they need to go some spot where they can unwind and have some incredible time. We found somewhat a long way from the city; an impeccable spot for Newari food lovers is 'Samay Baji'. Located at Harisiddhi, Samay Baji echoes Newari culture and mores. Now don't get perplex for the name, its Samay Baji Restaurant.
Samay Baji with the modern and hygienic setting along with generous cordiality has been serving people with Newari delicacies. Chef  Babu and his team, who make the food with passion,welcome you to try the best Newari food you have ever tasted.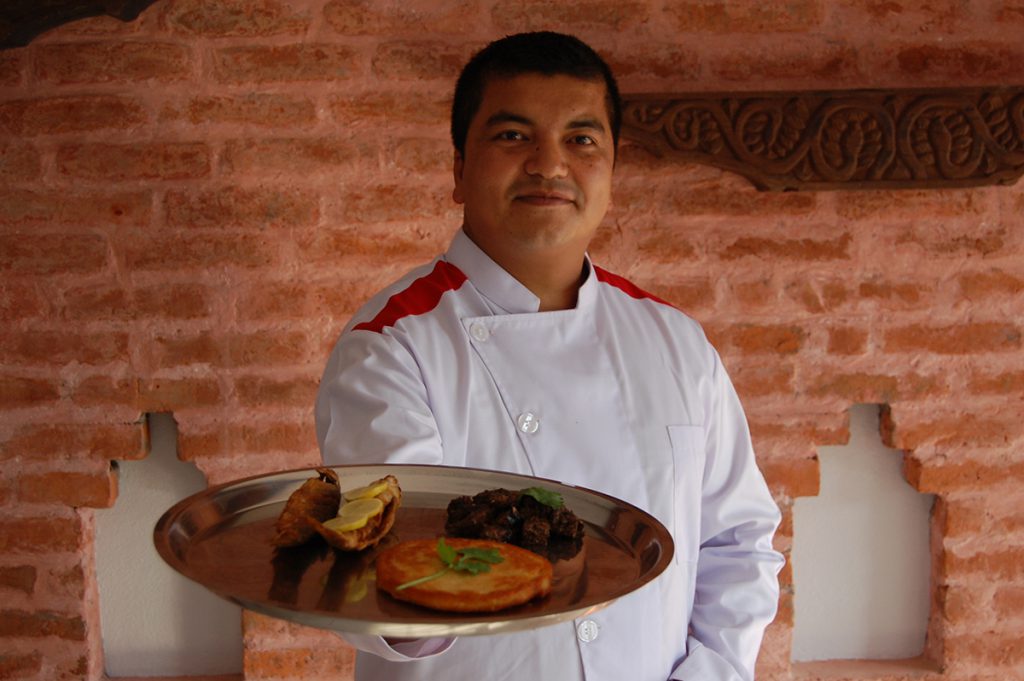 Now talking about Chef Babu, he is the man behind all the flavorsome food served at Samay Baji. He grew up at Harisiddhi, learning the culture and customs which now reflects in the food he serves. His food is the perfect fusion of culture and taste. He puts extra endeavor in the selection of the meat and ingredients to put on and also the self-made masalas (spices) prepared by him is a X- factor to the food. With the experience of 20 years; he has been serving the finest Newari cuisines, which are very hygienic and palatable.
Samay Baji's primary fascination is mouth watering 'Choila' cooked with the special meat and masalas giving it a distinctive flavor and taste. The Choilas are made using hay giving it the locale flavor.
Besides choila the menu offers these arrays of cuisine:
Samay Baji– Samay baji is an authentic traditional dish of  Newari people. Typically it is a set which consists of   baji (beaten rice), haku musya (black soyabean), chhoela (smoked meat), puka-la (spicy roasted meat), aalu achar (boiled potato marinated with pickle), bhuti (boiled beans with spices), khen (boiled egg), bara (black lentil squishy fried pancakes, lava-palu (ginger and garlic), achar (pickle), wauncha (green vegetables) and aaila or thown (local wine). Samay Baji restaurant itself serves the finest and piquant samay baji set of all time. After the Samay baji is served they offer curd and salad (carrot, radish, cucumber, green peas, etc) so it would help in digestion.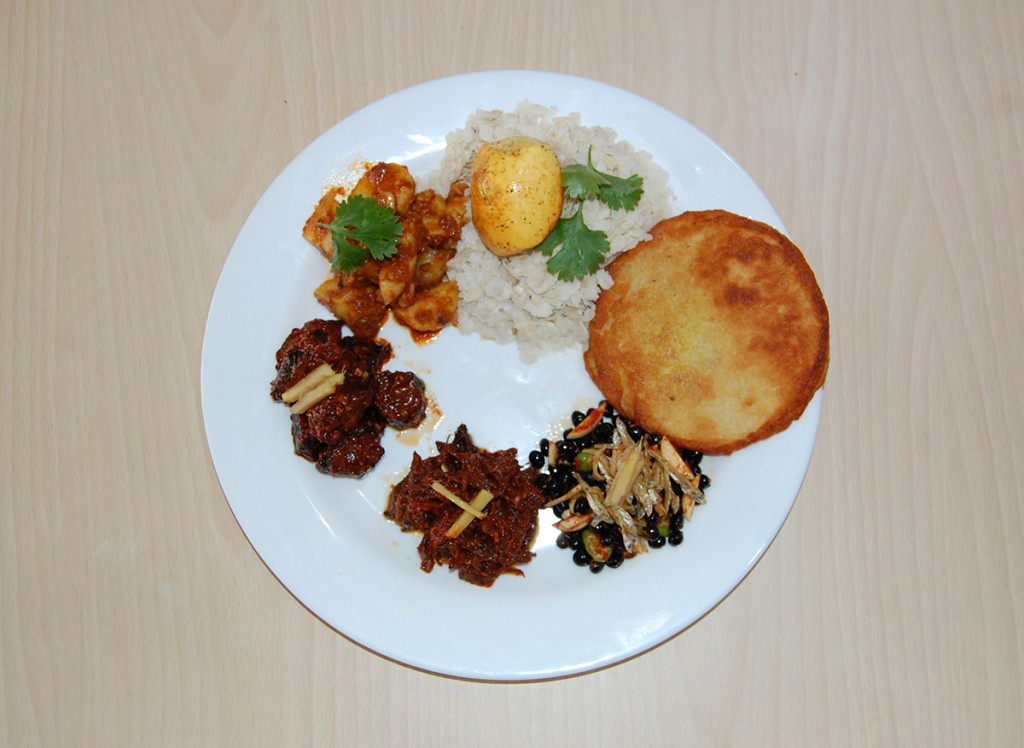 This dish has been passed down from many generations and is still much appreciated by the people. Mostly Samay baji is taken as a starter at the festivals and pujas. It is said that Samaya Baji offering different food items represents luck, health, fortune and longevity. Traditionally the dish is prepared with mixture of 84 items to make the offerings to god on festivals and puja. The varieties of the food items and mixture of taste makes the dish popular.
Chatamari- It is a kind of crepe made with rice flour. Like bara it is cooked on the tawa, but the cooking procedure is bit different, the thin layer of the paste is poured in the tawa on the round shape then it's completely covered by the lid made of clay. It cooks under 5 minutes by heat and steam. You can have the variation of Chatamari with different toppings from minced meat to seasoning or vegetables or with egg on the top. You can also have a combination of all three.
It's more of a similar to the Italian pizza but in the Newari way. Chatamari made with the rice flour with various toppings covered by egg makes it more delicious. Samay Baji serves various Chatamari which are rich in taste and flavor.
Bara– Baras are made with the local lentil which is soaked overnight in the water and then grind into fine paste. Adding up the necessary spices, the paste is fried in frying pan (tawa) in a round like shape. Basically it is small flat pancake which is light and squishy. Samaya Baji offers Egg Bara, Chicken Keema Bara, Buff Keema Bara, etc.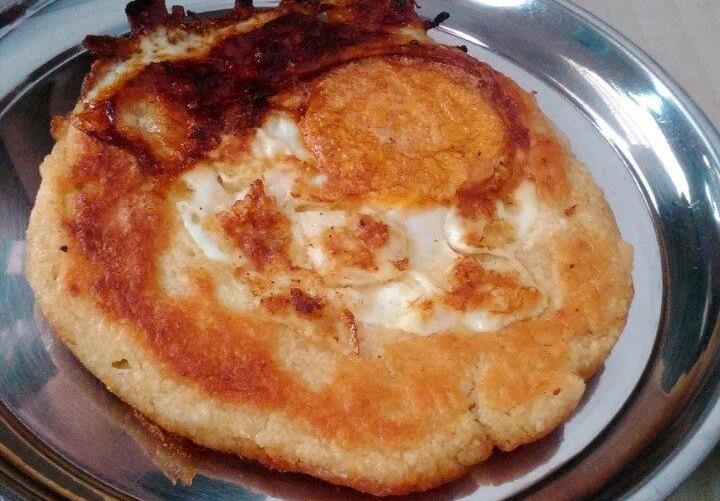 It is one of the necessary items on the Newari culture where it is served on every puja, occasions and celebrations. You can find similar in the Korean culture and street market as well where they serves you with the lentil pancake exactly like bara with sauce but here you get it with masu ko jhol (meat soup) and less oily too. Bara is similar to wo the only difference is wo is pan-fried whereas baara is deep-fried and has a hole in between.
Sukuti– Sukuti is made by dried meat which is marinated with chilly, ginger and other various spices making it spicy and delightful. Sukuti serves a perfect condiment for the drinks as well as you can consider it to be a side or pickle while having meal. We can also squeeze lemon on top for the tangy taste; it not just helps to increase the flavor but also cuts the hotness of the chilly if you can't bear it.It can be consumed directly or charbroiled and spiced as an appetizer or snack. Extra seasoning  like tomatoes, onions and garlic to make it more delicious. Samay baji serves Sukuti as an appetizer which are spiciest and tangiest.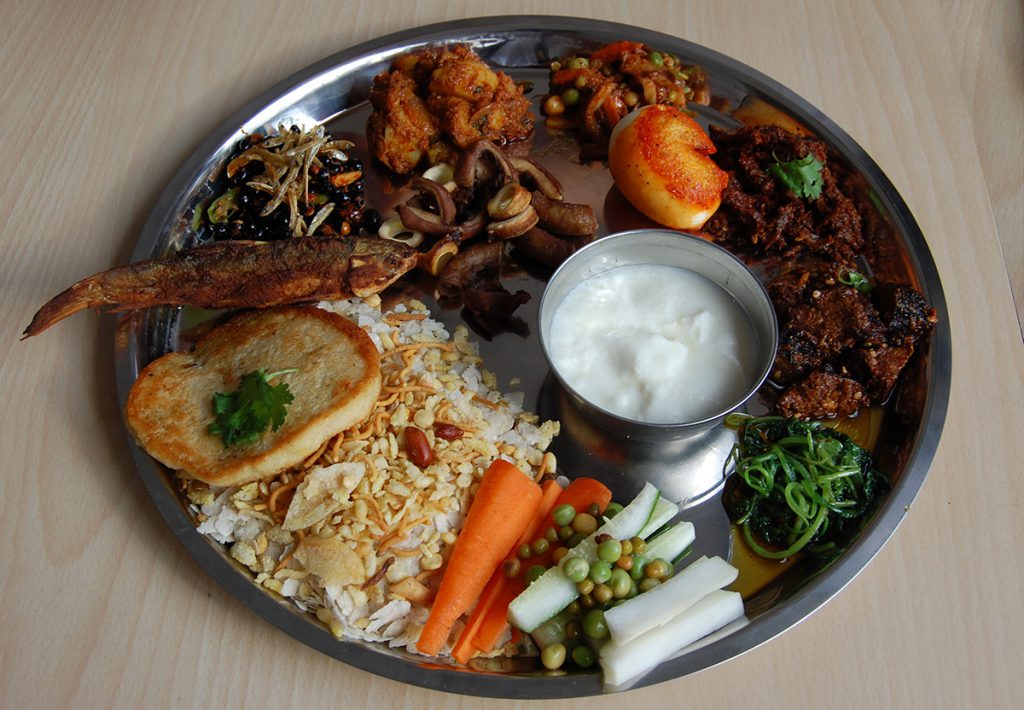 Not only these, they serve Kachila, Dyakula, Momo's, Khaski ko Fokso, Thalthale etc. Samay Baji Restaurant is a perfect place to loosen up and have a local taste of Newari food.  With the delicious and hygienic food, passionate chef, modern setting, welcoming hospitality Samaya Baji is serving splendidly.
We must say Samaya Baji- must try place by all the Newari food lovers. Now you don't need to travel way long for the essence of Samay Baji, order via Foodmandu and get your food delivered right at your doors.