"Gwaramari" is a Newari snack which is puffy and soft inside and crunchy outside. "Gwara" means fat and "Mari" means bread or roti, that makes it a fat and puffy roti. 😛 It can be eaten with chutney but best when dipped in warm cup of milk tea. Usually eaten for breakfast, not so healthy but tastes heavenly. Now if you want to learn how to make this, here is a simple recipe:-
Ingredients :
. 250 gm wheat flour
. 1/2 tsp baking powder
. 1 pinch besar dhulo "turmeric powder" , jeera dhulo "cumin powder"
. Oil (enough for deep frying)
. Salt to taste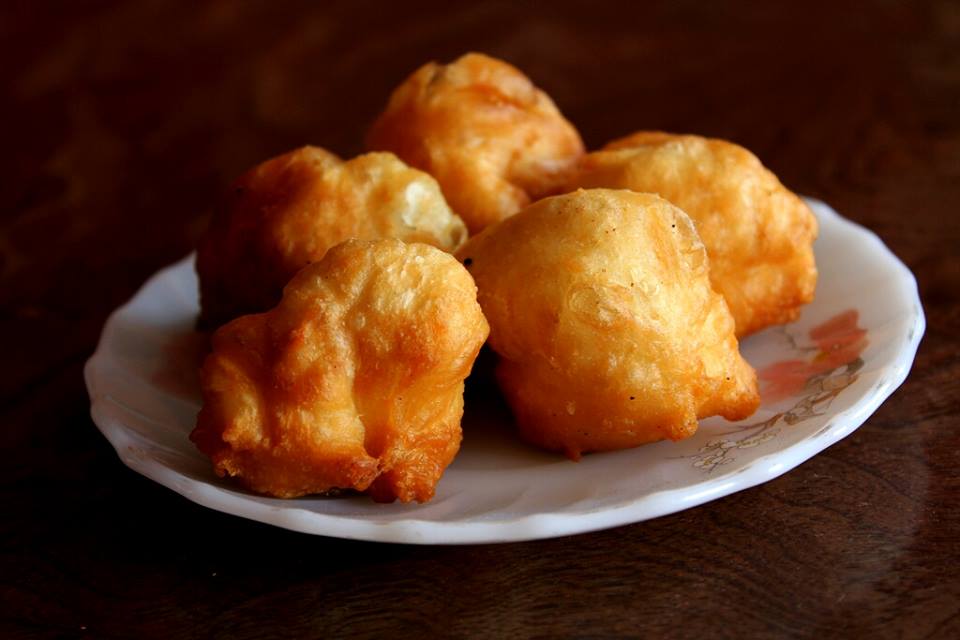 Instructions:- 
1. Add flour in a bowl and mix all the ingredients properly.
2. Pour warm water into the mixture stirring it continuously.
3. Don't add too much water. The final mixture should not be thin. It can be thick.
4. Keep it aside for half an hour.
5. Heat a deep frying pan with oil in medium heat. You can add methi "fenugreek seed" to check the heat. If it turns black then you are ready to add the mixture.
6. Rub your hands with some flour and now you can take small amount of mixture in your hand, make it round like a shape and dip it to the heated oil.
7. You need to fry till it becomes golden brown.
8. Remove the gwaramari with slotted spoon.
And Donee !! 😀 Enjoy the hot and crunchy gwaramari.