" I will sweep down the stars for you." Like seriously? As if you could really break down the stars. This cheesy line won't melt heart anymore but a melted cheese in a romantic dinner setting would definitely work. YES, YES. Surprise your love with some cooking in the most romantic day of the year. This Valentine, try this romantic recipe of "Pasta Carbonara" and see how you win their heart, just like this!
So let's start!
INGREDIENTS Needed: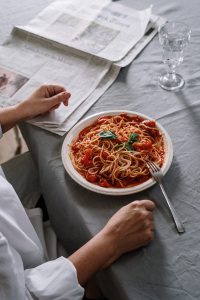 1 pound pasta ( spaghetti or penne )
2 tablespoons of olive oil
1 teaspoon salt
Diced Garlic – 4 Cloves
Chicken Breast, Finely Chopped
1/2 Cup Shredded Cheese (extra for garnish)
Chopped Coriander
Whipped Cream
Chilly Flakes (according to the taste)
Oregano Flakes – 1 Tea Spoon
Basil Flakes – 1 Tea Spoon
Pepper (according to taste)
PREPARATION TIME:
In a large pot boil water for pasta. Put 2 table spoon of oil on rolling boil water and pour the pasta into the pot, then stir. Cook pasta for 6-7 minutes on low heat, make sure that it's neither overcooked nor under-cooked (you can check this by taking out a pasta and pinching it by the fingers).
While pasta is cooking, heat a pan in the medium heat. Pour the olive oil in the pan; make sure the oil coats every part of the pan. Shimmer the Chopped Chicken in the pan till its reddish brown and add the seasoned salt, garlic and coriander. Now lower the heat and cook for 3 minutes or until the garlic is light brown. Time to make the base of the pasta by adding whipped cream and stir it properly. Add the drained pasta to the pan and sprinkle with the shredded cheese along with basil and oregano and stir it well. Put the shredded cheese and stir it for 3-4 times till the pasta becomes cheesy and sticky.
Now end up by adding pepper and chili flakes according to your taste and serve it on the plate with sprinkled shredded cheese on top as a garnishing.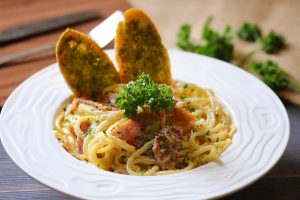 A plate of Pasta Carbonara, a glass of your favorite wine, scented candles, dim lights, and a rose. A perfect dinner date. Isn't it? So this Valentine: be romantic, shower your love to your loved one.
P.S. those who do not want to put all these efforts. Don't worry, Foodmandu will save you. Order via Foodmandu and get your food right at your doorstep. Don't thank us; thank your love for tolerating you till now! Cheers !