Indian Cuisine uses the whole palette of flavors – spicy, sour, sweet and hot, all at the same time. With all the tastes, Indian cuisine can be both exciting and intimidating. A wide variety of spices play a major role in this vibrant cuisine. Indian dishes are mostly curries with rice or tandoor made naan. It's many Nepalis to go dishes. Exhibiting restaurants associated with "Online Food Festival" are listed with their special menu.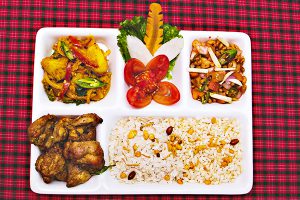 Om Tandoori Restaurant and Rooftop Cafe
Om Tandoori a popular food joint around its area. Serving varieties of Indian curries and tandoori items at very reasonable price. Om tandoori team are focused on service, quality and hygiene which keeps their customer coming back again.
Tandoori Chicken
Chicken Seekh Kebab
Chicken Achari Kebab
Chicken Mo:mo
Paneer Tikka
Paneer Tikka Masala
Butter Chicken
Kadai Chicken
Naan Butter, Roti, Paratha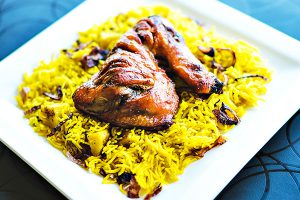 Bawarchi
Bawarchi restaurant draws inspiration from the best food traditions from across India, It specializes in Kebab and It also brings alive the rustic flavours of the Indian cuisine that is traditionally prepared in a 'tandoor' oven. The specialties range from Nawabi Indian cuisine, Kolkata Kati Rolls, delicious collection of Biryanis, Tangra Chinese and the newly added Teppanyaki Japanese Creations.
Chicken Malai Kebab
Afghani Murgh
Crispy fry fish
Tandoori Prawn
Mutton   Tikka
Savnam ki moti
Chicken Hydarabai biryani
Butter Chicken
Keema Hari Mirchi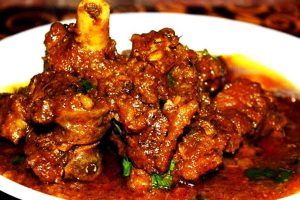 Mugal Empire
Mugal Empire offers Mughlai Indian Cuisine or Middle Eastern tastes then you should definitely check out this restaurant. Situated centrally at Lazimpat, as soon as you enter the restaurant you are greeted at the door. The interior of the restaurant is beautifully decorated, and it's even more wonderful in the evening. A menu highlight are their biryanis and skewer items. Mughal Empire is a must visit place for the food connoisseur. Mugal empire is offering combo meals for this Online Food Festival.
| | | |
| --- | --- | --- |
| Combo 1 | Combo 2 | Combo 3 |
| Chicken Naan | Chicken Masala | Butter Chicken |
| Chicken Butter | Butter Naan | Butter Naan |
| Basmati Rice | Vegetable Pulao | Mix Vegetable |
| Daal | | Biryani Rice |
| Naan | | |
| Combo 4 | Combo 5 | Combo 6 |
| Chicken Curry | Chicken Korma | Mutton Curry |
| Basmati Rice | Butter Naan | Veg Pulao |
| Daal Tadka | Chana Masala | Butter Naan |
| Plain Naan | Veg Pulao | Chana Masala |
| | | Salad |
| Combo 7 | Combo 8 | Combo 9 |
| Chicken Biryani | Mutton Biryani | Daal Tadka |
| Veg Raita | Mix Raita | Basmati Rice |
| Daal Makhani | Butter Chicken | Mix Vegetable |
| Gazar Ka Halwa | Butter Naan | Butter Naan |
| | Gazar Ka Halwa | |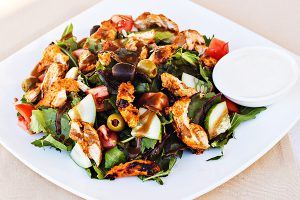 Bu Keba :The Organic Village Café
Bu Keba  was established in 2010 and it is well known as organic pioneers restaurant in Kathmandu. It caters specializes in Italian, Indian, Newari, Continental and Bakery items. Bu Keba ensures that the customer gets the maximum satisfaction and welcoming hospitality.
Tandoori Chicken Salad
Veg Cutlet
Chicken Tikka / Paneer Tikka
Kathi Roll Chicken/Veg
Tandoori Chicken momo
Kalmi Kebab
Cheesy Green Chicken Kebab
Spicy Noodle Potato Roll
Mutton Jogi Bhat with mix Raita and mint pickle
Chicken Cababdar / Paneer lababdar with Rice or Naan